Meet Greg Conrad, HP Fairfield's new Parts Sales Representative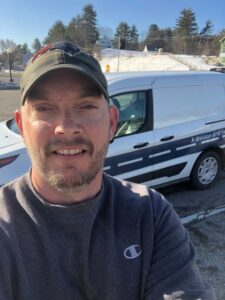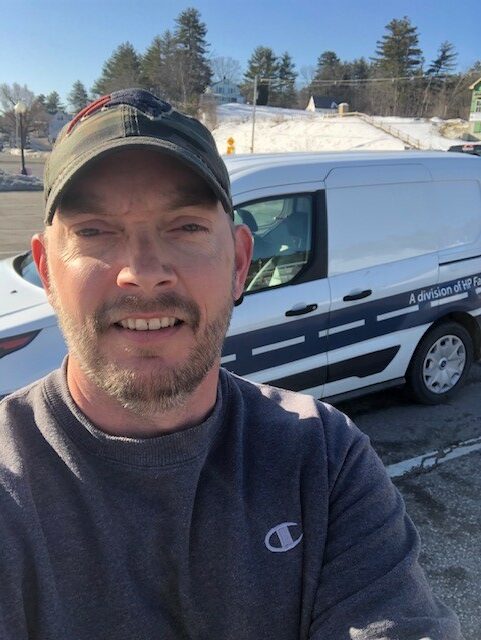 I caught up with Greg Conrad to get an idea of what the new Product Support Sales Representative (PSSR) position is like. —Editor
How long have you been with HP Fairfield and what have your responsibilities been during this time?
This upcoming July will mark three years with the company. I was hired as a CDL-A truck driver making equipment deliveries to customers but most of my time has been working on the consolidation of store locations; making sure the equipment is safely moved to either Hopkinton or Skowhegan.
What prompted you apply for the PSSR position?
I really enjoy the driving aspect of my job but I really wanted to contribute more than just deliveries. After a discussion with my supervisor, I was presented with this role as an option for growth and advancement. This was exactly what I was looking for because it means I would get more involved with our customers.
What does your new role include for day-to-day tasks?
My focus is to build relations as the newest sales representative for the company starting off in half of the state and increasing my territory from there. I seek out the public works directors, foremen and parts managers to find out how I can assist. I carry various parts right in my van which makes customers excited to not have to travel to Hopkinton. Any parts that are ordered that I don't have with me are delivered a week later when I'm on that route again. This works out for everyone and has increased my sales significantly.
I'm only responsible for delivering the parts that I've received orders for. However, if there are parts on the shelf in Hopkinton, ready to be delivered, and the customer is on my route, I'll grab them and make the extra stop. This sort of customer service builds relationships and usually ends up with the customer placing another order. This starts a chain of additional orders because of the extra effort to check the parts shelf.
What keeps you motivated day to day?
My favorite aspect of the job is listening to issues within municipal public works and providing solutions. Customer feedback is not always easy to obtain so I'll take notes and share those with my colleagues back at the shop so that they're aware and can make adjustments, if necessary.
Do you have regular routes planned out at this time?
Yes. Routes are broken up into counties only within New Hampshire at this time. I'm visiting three to eight town garages a day depending on how long the travel time is in between stops. Every other month, routes start over again so the customer knows when to expect me next time; hopefully with an order. There are over 200 towns in New Hampshire so planning viable routes and growing slowly is essential for success.
How do you think your position affects the company?
There will always be a need for parts. Customers can get the parts from us or from somewhere else. It's my job to build a level of trust in the business sense so when parts are needed, I'm the person they call because they know I'll be back and when. Introducing new items to our customers further increases our brand and creates a great deal of good discussion. I've already learned that customers are pleased to match a face with the HP Fairfield name and each week seems to be financially better than the last. I am very proud of the role I've secured within the company and I'm looking forward to better part orders each week.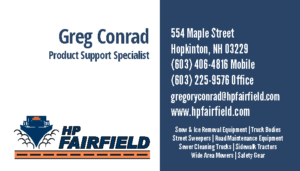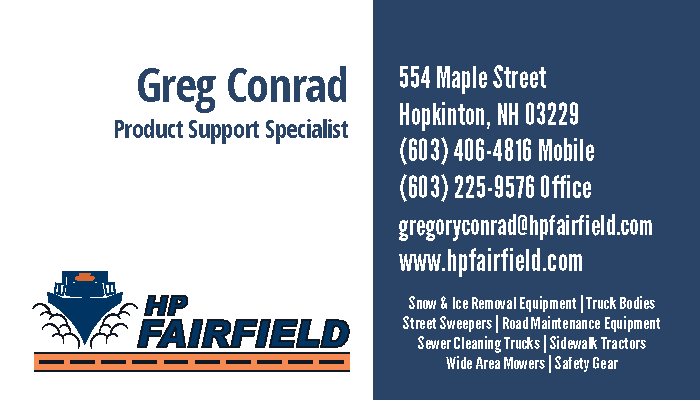 ---
For 70 years, New England state and local governments, as well as contractors have come to depend upon HP Fairfield for high quality municipal equipment, truck upfitting, parts, and expert service. We have two locations (Hopkinton, New Hampshire and Skowhegan, Maine) that offer our customers convenience, the highest levels of service and competitive pricing.